Mastering Share
CFDs Course
Course Aim:
To provide the trading  and system knowledge, and support to enable you to confidently trade ASX and US Share CFDs.
Cost: FREE
(with an MT5 account funded to a minimum of $1,000)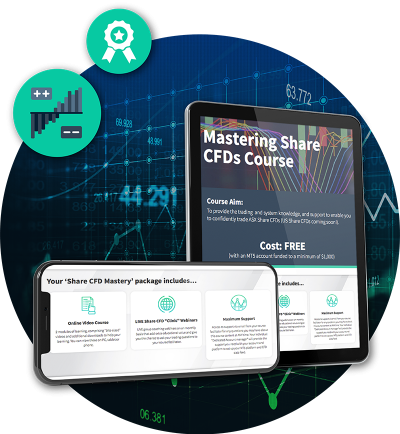 This course is for you, if…
| | |
| --- | --- |
| | You are interested in how to trade Shares on the ASX200 at a fraction of the entry cost of actually buying shares. |
| | You are already trading Forex or index/commodity CFDs and want to add Share CFDs to your traded financial instruments on your MT5 platform. |
Your 'Share CFD Mastery' package includes…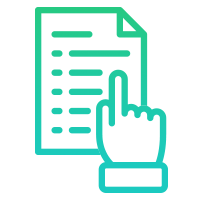 Online Video Course
2 modules of learning, comprising "bite-sized" videos and additional downloads to help your learning. You can view these on PC, tablet or phone.​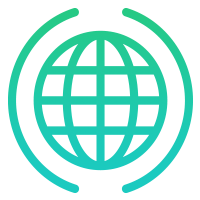 LIVE Share CFD "Clinic" Webinars
LIVE group coaching webinars on an monthly basis that add extra educational value and give you the chance to ask your trading questions to your course facilitator.​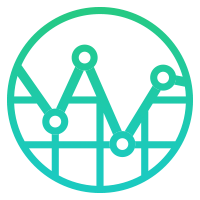 Maximum Support
Access to support via email from your course facilitator for any questions you have about this course at ANY time, and your individual "Dedicated Account manager.​
Module 1 - Introduction to Share CFDs
The aim of this module is to give participants the knowledge about what Share CFDs re, how they are traded and some of the differences and similarities between these and other financial instruments e.g. Forex or Index/Commodity CFDs.
Module 2 - Practical Aspects of Trading Share CFDs
In this module we take the basic overview knowledge covered in the first module, and start to look in more detail at some of the practical aspects of Share CFD trading. As well as further detailed information on some of the differences you need to consider as a Share CFD trader such as corporate events and costs, we explore some of the critical systems you need to have in place such as your trading plan and journal and position sizing systems.
Start your Share CFD learning journey – Enrol NOW.
Complete the form below to enrol in your education package. One of our team will connect with you as soon as possible to set you up and get you access to your online course.
1. One of our account team will connect with you and assist with eligibility and account set up, so you can start to trade Share CFDs.
2. You will be sent the link to access your Share CFD course and associated learning materials.
3. You will be registered for the next Share CFD clinic webinar and will receive date and time confirmation. 
If you have any questions about your Share CFD course, please contact us via email or on the number below.